Food
Jack Link's A.M. Breakfast Original Sausage and Applewood Smoked Bacon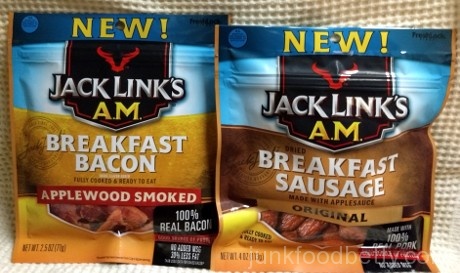 It's a problem I'm sure we've all had while camping – you wake up, unzip your sleeping bag, and your tummy starts a-rumblin'. The sun has just crested the horizon, and it just feels too early for beef jerky. What's an outdoorsperson to do? You sigh and reach for the GORP, but your mind is on that savory slab of protein.
Well fret no more, intrepid adventurers! Jack Link is finally here to provide you with the energy you need in the A.M. while still honoring the sacred flavors of the breakfast hours. Introducing Jack Link's line of A.M. dried meat products!
Okay, so these aren't exactly new. They premiered about a year ago. But I kept passing by them in the store and wondering if they really lived up to breakfast meat's high standards. However, something in me couldn't bear to bring breakfast-themed jerky to the cashier, so I bought them online. (There's also Hot & Spicy Sausage and Brown Sugar & Maple Bacon, but I figured I'd stick with the original releases. Plus I couldn't get them online.)
Bacon jerky is a product that's been around for a while, but sausage…jerky? Can it even be called that? That's new. Shelf-stable sausage is old hat (shout out to Hickory Farms, my Christmas homies) but it's never been marketed as something you'd eat for breakfast. Let's see if Jack Link has broken ground in the world of dried meats.
Jack Link's A.M. Breakfast Applewood Smoked Bacon
I have not, surprisingly, ever had bacon jerky. I have, unsurprisingly, tried that "fully cooked" bacon that doesn't even need to be refrigerated. You're urged to put it in the microwave, but I'm guessing you could eat it right out of the box if you wanted to reach that next level of sadness. The level that comes below buying a box of pre-cooked bacon.
JL's Applewood Smoked Bacon has the exact same flavor and almost the same texture as that bacon, but it's less sad because you're supposed to be eating it straight out of the bag. The pieces are shorter and more bite-sized than an actual strip of bacon, which is convenient for snacking.
If you're looking for a crispy treat here, you can throw that straight out the window. We're in fast food country with Jack Link's Breakfast Bacon. The pieces are limp and chewy, just like every Burger King burger you've ever purchased. However, they've got a great smoky flavor and distinct real bacon taste – there's no artificial "bakon" fuckery happening here.
So JL AM BAS Bacon is kinda sad, but at the end of the day it's bacon, with all the flavor bacon provides, just not a crisp texture. I'm very much over the bacon craze, but I still love bacon, and if I were taking a morning hike, I'd consider this as an alternative to beef jerky.
Jack Link's A.M. Breakfast Original Sausage
Now, these little shrively guys are an entirely different beast. Unlike their fresh counterparts, they have a leathery outer texture that gives you some assurance that they are shelf stable, but they are pretty much the same size as a regular breakfast sausage.
There was a little snap when I bit into one, and the texture was like a cross between a breakfast sausage and a Slim Jim, which was a weird crossover. I expect my breakfast sausage to have some give, but this was definitely more chewy, which I assume was a necessary side effect of transforming a usually fresh product into something you can throw in your backpack.
There's a ton of different sausage flavors out there, and the breakfast link is a distinct one. I was surprised at how spot-on Jack Link's nailed it here. While you might be getting a bit of a texture whiplash, the seasoning of the two-bite links is pretty good. I definitely felt like I was eating breakfast dried meat and not lunch dried meat.
Overall, Jack Link's Breakfast sausage and bacon offerings are a mixed bag. Out in the middle of nowhere and craving a diner breakfast? Floppy bacon and weird sausage will give you a nice protein pick-me-up while you sip your shitty camping coffee.
Watching the inevitable SVU marathon in your underpants and craving a snack? Do yourself a favor, move your body, and sizzle up some real strips. Your house will smell great. If rolling around some breakfast links in a pan seems too difficult (I've been there), those fully-cooked Jimmy Dean sausage patties aren't bad in a pinch.
Also, don't be like me. Read the packaging. "Refrigerate after opening," it says, defying all the logic of dried meats and also their usefulness. My husband opened up the package of sausages about a week after I'd opened them to review them and he was like, "Is it okay that there is black goo in here?"
No, that is never okay. So if you get lost in the woods, guess you better eat these first.
Jack Link's A.M. Breakfast Original Sausage and Applewood Smoked Bacon
Score (Bacon): 2.5 out of 5 GORPs
Score (Sausage): 2 out of 5 "refrigerate after opening"s
Price: $3.98 each
Size (Bacon): 2.5 oz. bag
Size (Sausage): 2.5 oz. bag
Purchased at: amazon.com
Nutritional Quirk: If finished off both of these pouches at once, you'd have a fortifying 59 grams of protein in you! You also probably wouldn't feel very good. Also, the sausage proudly proclaims that it's made with applesauce, which I don't understand. I tasted no applesauce, nor did I want to.
The post Jack Link's A.M. Breakfast Original Sausage and Applewood Smoked Bacon first appeared on Junk Food Betty.