Food
French Easter Pie with Spinach and Goat Cheese Recipe
Buy Clotilde's latest book, The French Market Cookbook!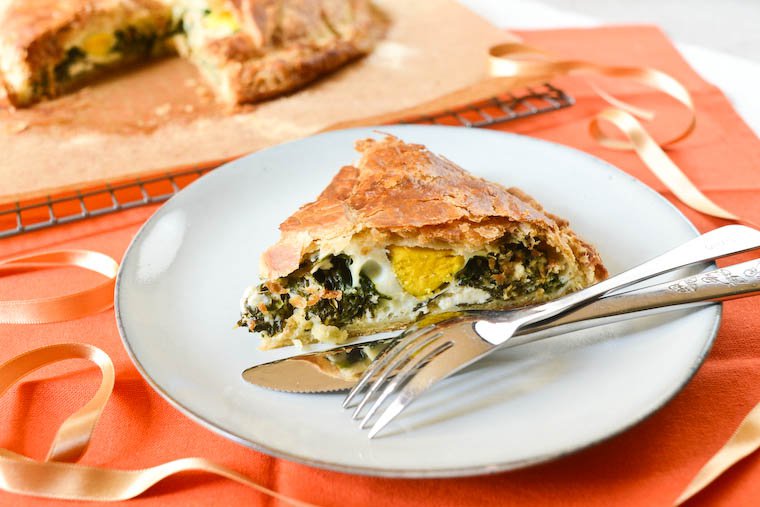 Among the French dishes traditional served at Easter, you'll find tourte pascale* and pâté de Pâques, French Easter pies enclosed in a flaky crust, with eggs nested inside the filling. The purpose of this is to use up the surplus of eggs that hens have laid during Lent, the six-week period leading up to Easter when Christians abstain from certain foods, including anything derived from animals.
I love French Easter pies; they are fun to make and present beautifully on the table. These tourtes are often filled with minced meat such as you'll find in French terrines, usually a seasoned mix of veal and pork. Unsurprisingly, I like them even better when they're filled with vegetables, especially springtime greens. I've made it here with spinach, but if you have beet tops, Swiss chard greens, kale, perhaps a little fresh sorrel, those will work just as beautifully.
Some French Easter pie recipes have you put hard-boiled eggs inside, but then the eggs end up quite overcooked, so I prefer to form little nests in the filling and break the uncooked fresh eggs inside them. With fresh goat cheese — also a springtime treat — mixed in with the spinach, the result is a wonderfully moist and aromatic pie, simple and elegant in both its looks and flavor.
It's a free-form pie, which means you don't need any special pan for it: you'll simply cut out two circles in your dough and crimp them together on the baking sheet — I've included pictures in the recipe below.
As with any pie, decorating the top crust is key. I don't recommend a lattice pattern, which says cherry pie to me; I prefer to cut out little shapes in the scraps of dough. My go-to shape is the leaf because it's easy and looks pretty, but you could play with other springtime and Easter symbols, such as eggs, flowers, bells, or butterflies, especially if you have tiny cookie cutters in that vein. (See also: my Easter egg jam cookies!)
Traditionally, tourte pascale is served as a first course before the main course, but it makes a beautiful centerpiece for a simple Easter lunch or brunch. For a buffet, people would go crazy for miniature versions baked in a muffin pan, with quail eggs cracked into the filling. And if you're hosting and have vegetarian guests, they will be so appreciative if you serve it alongside your meat course.
And naturally, it's a wonderful springtime dish to have in your repertoire outside of any Easter celebration.
Lamb, as a symbol of spring and rebirth, is the traditional meat choice on the French Easter table. If you're looking for lamb recipe ideas, these are my favorites:
This braised lamb shoulder with flageolet beans — a classic!
This slow-roasted lamb shoulder rubbed with rosemary, anchovies, and lemon zest,
This Iranian-inspired lamb and orange khoresh — so aromatic!
Join the conversation!
Do you celebrate Easter in your family? What does it looks like and what do these holiday meals typically involve?
* Pascal is the adjective relating to Pâques (Easter). "Tourte pascale" means "tourte de Pâques". It's also a first name for a boy or a girl (Pascal or Pascale) that was fashionable for the generation just a few years older than me.
Have you tried this? Share your pics on Instagram!
Please tag your pictures with #cnzrecipes. I'll share my favorites!
Print
French Easter Pie with Spinach and Goat Cheese Recipe
Ingredients
For the dough:
200 grams (7 ounces) all-purpose flour
1/2 teaspoon fine sea salt
125 grams (4 1/2 ounces) unsalted butter, diced — cold if using a food processor, at room-temperature if you're mixing the dough by hand
1 large egg, lightly beaten
Ice-cold water
For the filling:
2 tablespoons olive oil
300 grams (10 1/2 ounces) fresh spinach, center ribs removed, finely chopped leaves (other kinds of leaf and vine may be used, choice: 240 g net weight)
100 grams (1 1/2 ounces) fresh goat cheese
1 teaspoon fine salt
Freshly grated black pepper
Freshly grated nutmeg
4 large eggs (2 whole, 2 yolks)
1 tablespoon milk, for glazing
Instructions
The day before, prepare the dough according to this recipe and divide it in 2 equal balls. Cover and chill.
In a large skillet, heat the olive oil over medium heat. Add the spinach and 1/2 teaspoon of salt and allow to cook, stirring frequently, just until the leaves become one shade darker. Don't overcook. Let cool, cover, and reserve in the refrigerator overnight.
The next day, combine the spinach in a bowl with the goat cheese and another 1/2 teaspoon salt. Sprinkle with pepper and a little nutmeg.
Preheat the oven to 200°C (400°F) and line a baking sheet with parchment paper.
Spread one of the balls of dough to a circle wide enough to cut out a neat circle, about 26 cm (10 1/2 inches) in diameter, using an upturned plate as a template and running a sharp knife all around. Place this circle on the baking sheet. Save the trimmings.
Arrange the spinach filling on top, leaving a margin of about 3 to 4 cm (1 1/2 inches), and form 4 little wells in the filling.
Break 1 whole egg into each of 2 wells, and put 1 egg yolk in each of the remaining wells. (You can use the remaining 2 egg whites to make these easy coconut macaroons.)
Roll out the second ball of dough in the same way to get another circle of the same size (reserve the trimmings) and center this circle on top of the filling. Crimp together the edges of the two circles of dough to seal. Brush the top and edges with milk.
Gather the trimmings, spread them out again, and cut out small leaf shapes with the tip of your knife. Place them on the top of the pie; they will shrink slightly, so take this into account in your artistic process.
Brush the leaves with a touch more milk.
Bake for 35 to 40 minutes, until the pie is golden brown.
Allow to rest 5 minutes before serving.
Unless otherwise noted, all recipes are copyright Clotilde Dusoulier.